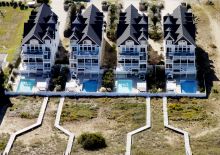 By F. Jeffrey Scott
When purchasing a home on the Outer Banks, there are things you can do to save time now and headaches later. These are the Top Ten areas where buyers waste time and set themselves up for potential problems after purchase. Follow these suggestions and give yourself more time on the beach!
1) Determine what you want
Deciding what features a property must have as well as those you can not live with will save you a tremendous amount of time and energy. Buyers should also have a rough idea of the location. It becomes difficult to remember specific details about each property after viewing more than just a few homes. Narrowing the viewings down to the best four or five will help in the decision-making process. A buyer may eliminate some homes by seeing the neighborhood and the outside first. Knowing what you want helps avoid confusion and allows you to spend more time enjoying the Outer Banks.
2) Hire an agent
Once a Realtor knows what you're looking for, he or she can promptly inform you of those new listings and price reductions that meet your needs. Agents have the ability to search all the time through the Multiple Listing Service (MLS) notifications. The local MLS system allows an agent to put in a buyer's specific criteria. Once that information is inputted, anytime a property meets that criteria the agent or buyer will be immediately notified. No longer do you have to search the inventory every day. Also, agents can help you quickly determine if a property is overpriced. Hiring an agent can save you time and money.
3) Look for North Carolina's agency brochure
Agents initially represent the seller. Realtors are required to give you a copy of a brochure created by the state at your first meaningful contact. This brochure explains in plain English how agency laws work in this state. When they give you a copy of this brochure, you can also expect them to ask if they can represent you instead of the seller. This will allow them to better serve you. Agents who provide you with this brochure and briefly discuss it are typically more conscientious about their job.
4) Set expectations
A good business relationship starts with good expectations. Spend a few moments with your Realtor discussing what you expect from him or her. For example, do you want to know about every price change of properties that meet your criteria? How do you want the agent to contact you? Should they contact you by phone, or is email better? Also listen to the expectations the Realtor may have for you.
5) Use the internet
The internet is a resource for an incredible amount of information about each property for sale. Besides the listing information on the features of houses, the internet has aerial photos, vacation rental information, flood zone information, local zoning ordinances and tax information. Have your Realtor provide you with links of those sites that will help you most.
6) Get pre-approved
Take some time and have a lender approve you for financing. Pre-approval is one step more than pre-qualification. When a lender pre-qualifies a buyer they rely solely on the buyer's word. When a pre-approval is completed, the lender pulls the buyer's credit report. Not only will this help you target a price range, but sellers will also look more favorably upon your offer if they know a lender has looked at your credit and will put in writing that you have the ability to purchase their property.
7) Get a market analysis before making an offer
Once you have found the right property, ask your agent to give you his or her opinion of value. Your agent will search the MLS for recent sales to see what other buyers were willing to pay for similar properties. This will help you make an educated decision on an offering price and how high you may want to go.
8) Understand the contract
Have your agent go through the contract with you. It is important to know exactly what you are signing and the implications of the document. In a typical transaction there are many dates that must be adhered to. Going through this document helps buyers plan important dates around their busy schedules. Your agent should also be able to share some insights on each paragraph and how it relates to purchasing in this market.
9) Hire both a home and a termite inspector
Our coastal environment results in unique impacts to homes. Builders must pay close attention to construction practices to reduce the affects of wind and wind-driven rain. Local home inspectors are trained to find potential problems as well as to identify all the normal repair problems found with homes. Hiring a home inspector will help you avoid purchasing a property in which everything is not properly working. Termites and other pests love this warm and humid Outer Banks environment. Oftentimes, the presence of termites and other wood-eating insects can not been seen by the untrained eye. Hiring a local pest inspector to make sure no bugs are present can save you money on treatments and repairs later.
10) Get a survey and an elevation certificate
Occasionally a fence or other encroachment will be placed on a property. Getting a survey helps new owners know exactly what they own. Local surveyors will stake the corners of a property so boundaries can be seen before closing. They also can plat the improvements on the lot. Having this information is important for flood insurance and improvement purposes.
This is not a complete list for Outer Banks buyers, but following these tips should greatly reduce wasted time and put you on the path to successful and happy Outer Banks home ownership.