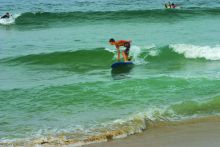 By F. Jeffrey Scott
It's not difficult to fall in love with the Outer Banks. From combing the beach for shells as the sun rises over the Atlantic to watching the sunset over the sound, there are a myriad of activities here that somehow allow you to relax and forget about life's worries back on the mainland.
It is also a place where cherished memories are created. Whether it is your first body-surfing wave or 50th sand castle with your grandchild, these memories will be with you for the rest of your life. The one part you won't want to remember is packing up and leaving the beach. Even locals talk about the feeling they get when they drive across the bridge to the mainland.
Every season here has its highlights. In the fall the beaches are still warm and the restaurants are not crowded. Winter's peace and quiet allows you to relax and walk the beach in solitude. Spring's warm breezes bring great fishing. Spending just a week or two a year on the Outer Banks is just not enough for thousands of Outer Banks vacation home owners. They discovered that owning a home here is easier than it appears and it is an investment in a better way of life. This article will help explain how the average person can improve their way of life by making a simple investment here.
An Outer Banks vacation home immediately paying for itself is as rare as an empty interstate highway during rush hour. It is an urban legend that vacation homes can pay for themselves in the first year with a 10% or 20% down payment. Why then have thousands of people purchased these homes? It is because they realize the value of the lifestyle and want to create memories here with family and friends. Many owners planned and saved for years before making their purchase.
Each vacation rental cottage generates a certain amount of rental income. There are quite a few variables that affect the amount of rental income a house generates. Everything from the amenities to the location to the condition of the property can cause the income to go up or down. A local property manager at one of the vacation rental management firms can help you determine a cottage's rental potential.
The biggest expense on a vacation rental property is the mortgage. Other expenses include insurance, taxes, utilities and property management fees. It is possible to accidentally exclude maintenance as an expense for the property. If the cottage has a pool or a hot tub, these must be maintained twice a week when tenants occupy the property.  Also, each buyer should consider creating a reserve for when items such as the roof or carpet need to be replaced. The rental income should help offset a large portion of all these expenses associated with vacation home ownership.
Depending upon an individual's tax situation there also can be tax benefits to owning a beach home. The most common scenario allows owners to reduce their federal tax burden by depreciating the property as well as write off a portion of the total expense of the property. It is a good idea to talk with you tax advisor to find the best option available to you. However, be prepared for them to tell you it may not make the best business sense to purchase the property. The decision to purchase a vacation home is more of a quality of life decision than a business decision. It is hard to put a price on improving your quality of life. Of course it would be unwise to purchase something you cannot afford, but owning a home on the beach can tremendously improve your lifestyle.
Besides a place of refuge from life's daily grind, having a home on the Outer Banks allows owners to come and go as they like during most of the year. Vacation homeowners will frequently take long weekends during the off-season to enjoy the beach and piddle around their house. Today's vacation homeowners put a premium on their time. Being able to avoid check-in times and the congestion and lines that accompany those times is a big benefit. The pride of homeownership also comes with a beach cottage. Vacation homeowners are able to decorate and modify the home to their specific likings. Arriving at the cottage and seeing the trophy marlin or the picture of the entire family on the beach from the year before is a great feeling. 
Making memories with friends and family is really what owning a home at the beach is all about. Life passes in just the blink of an eye, so if it's possible for you, make plans to improve your quality of life as soon as you can by purchasing a beach home.