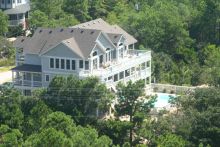 By F. Jeffrey Scott
A buyer recently viewed a house for sale that set high on a hill overlooking the ocean in Southern Shores. From the outside this house looked fabulous. It had the highest grade siding, beautiful landscaping and a large pool. It looked like the perfect second home. The buyer's hopes were dashed, however, as he ascended to the top level and found what should have been a fantastic ocean view was kitchen cabinets! Unfortunately, the builder had built the house without considering the uniqueness of this lot and its most valuable asset.
Home design can help maximize value for rentals, for selling or just for personal use. This article focuses on helping Outer Banks homeowners maximize value and personal enjoyment through home design.
If you have a house that needs to be updated, where in the world do you start?
Assess the home's strengths and weaknesses
If you have owned the home for a while, it is wise to have someone help you with this process. It is human nature for people to get used to the features of a property regardless of their current desirability. For example, a seller recently said she loved her dark paneling walls because they were easy to clean up and didn't show imperfections. But, in today's market, dark wood paneling is a kiss of death for a sale and a return tenant.
Get advice
Getting a fresh opinion on the current status of a property can uncover some key areas that may need to be addressed as well as confirm good ideas you may have. Good advice on renovations and improvements can be obtained from your property manager, Realtor, architect, builder or interior decorator. Part of this process is figuring out the most important things to do within your budget. These experts can help you get the biggest bang for your time and money.
Consider the renters
Considering your tenants' wishes can go a long way towards increasing the rental value. Just adding a few little things like a pot big enough for cooking crabs and updating the deck furniture can make a difference. Tenants will often list needed improvements in your guest book or in their cottage survey. New bedding, lamps, pictures, accent furniture, kitchen items like dishes, small appliances and new outdoor furniture can make the cottage more appealing. Property managers know what today's visitors are looking for in a rental. They will gladly share suggestions on improvements as well as assess the value of these additions.
Think resale
Owners should be thinking of resale value while making a decision on the improvements. Compare your home to others in the area. When a home is by far the largest in the neighborhood, it is difficult to recoup the cost of the addition. Keep in mind that changing existing space adds less value than adding additional square footage. Therefore, try to add living area instead of just improving what is already there. Show your Realtor your plans and they will estimate the resale value with these improvements.
Get professional help
For those larger projects, an owner should consider meeting with an area architect and a builder. Their expertise is helpful in utilizing space, allowing in light and providing a comfortable and functional floor plan. They are also experts in making an addition look like part of the original house. Builders also know local regulations and codes. Oftentimes projects are limited by a town's building ordinances. A builder familiar with these ordinances can save you time by knowing these local limits.
Let in the light
The easiest thing an owner can do to improve the value of his or her property without spending a ton of money and time involves getting light into the house. Open, airy and bright rooms are in style. Replacing old light fixtures to more modern fixtures, installing bulbs with the maximum wattage allowed for those fixtures, cleaning windows and installing light-colored blinds can all be accomplished in a weekend.  
Go for the easy fix
Owners looking for slightly more of an impact should consider a few other items. Painting the interior can help. Those people without much design experience may consider talking with a designer about colors that complement each other. An owner should also take a look at the interior flooring: Is the carpet worn or the vinyl cut? Are tiles cracked? Sometimes a good carpet cleaning will be enough, but a worn carpet sticks out like a sore thumb. The kitchen is probably the most important room in the house. New countertops and cabinets can make a house look 20 years younger. Local homeowners often start with the kitchen as part of their complete remodeling plan. 
Focus on the first impression
On the outside, a nice manicured lawn is a plus in some Outer Banks locations. However, part of the lure for many here is the minimal yard maintenance. Using native vegetation and just a small lawn may be the most appealing way to go. If your home is in the beach zone, then beach grass (instead of weeds) gives the home a good beach feel. A fresh coat of paint or stain on the exterior not only protects the home but also dresses up the property. Local paint stores can recommend products and contractors that will result in a durable and lasting finish.
Experts in every field of home improvement on the Outer Banks are ready to help. They will be happy to assist you in tailoring your home design plan to maximize value while not breaking your budget.