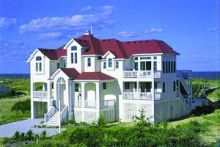 Renting is a way to offset the costs of owning an Outer Banks vacation home. But renting your second home to vacationers is not as simple as installing a pool and putting up a "For Rent" sign in the yard. If you want to generate a reasonable amount of income, you've got to be a serious player in the rental game. Renting is a competitive business on the Outer Banks, and if you want to play, you've got to know the rules.
When you're ready to rent your property, the two main issues you will face are 1) attracting as many renters as possible, and 2) retention, in other words, getting those same people to come back and pass the word to their friends and family.
Step 1: Attracting Renters
The best way to attract new renters is to start with a stellar property. Then you'll need a top-notch management company with a highly visible marketing plan and professional service.
Renters initially look for the basics: location on the Outer Banks, proximity to the ocean, price and number of bedrooms. A wide range of rental properties is available on the Outer Banks, so every renter can find an option to suit. The homeowner's responsibility is to offer the best possible property for the price range, location and number of bedrooms.
Beyond these basics, property managers say that plenty of amenities and a comfortable atmosphere are the two most important elements in attracting renters and keeping them as repeat customers.
Entertainment
Today's renters want entertainment, and they want it on site. They're paying a lot for the house, and they want to feel like they're getting their money's worth. They want amenities galore. Pools and hot tubs are the top renter-attraction devices. Homes with pools typically rent for more weeks for more money than those without pools.
Fitness
Some homes offer a room entirely devoted as a home theater, with comfy seating, a huge flat-screen smart TV and cable TV with diverse movie channels. Also attractive to renters is fitness and exercise equipment. This can be as simple as a treadmill and some free weights or as elaborate as a full-blown home gym with cardio equipment, weight machines, stereo and TV and sauna. Another option is to offer your renters a membership at the Outer Banks Family YMCA or another local gym.
Recreation
Recreational space and equipment is a big draw as well, especially separate recreation rooms where the kids can play while the adults relax, or the adults can play while the kids sleep. Popular recreational equipment includes game tables such as pool, Ping Pong, Foosball and air hockey. WiFi, big-screen smart TVs, video games, board games, computers with high-speed Internet access, stereos and bars with mini-refrigerators are also sought-after amenities.
Outdoor recreational equipment is a big plus. Anything extra you can offer — kayaks, standup paddleboards, bicycles, volleyball equipment, a basketball goal, cornhole boards, horseshoe pits and swing sets — will add to your home's rental potential. Beach chairs, umbrellas and a beach cart are definite recreational pluses because otherwise your renters will have to spend extra money to rent these items. The latest trend is to hire a company to set up all your beach gear for you; doing this for your renters every week would make a lasting impression.
Find Your Niche
Another way to make your home stand out is to try to fit into a niche rental market. For instance, you can target families by offering baby equipment (gates, highchairs, cribs), plenty of recreational amenities and playground equipment onsite. You can attract corporate retreaters with high-speed wireless Internet access, audio-visual equipment and conference space. You can attract wedding parties and functions with open interior spaces, outdoor gathering areas, large kitchens separate from the party space, and elegant decor. Fully handicapped accessible homes, with an elevator, wide doorways and other special features also stand out on the rental market. Pet-friendly homes with fenced in yards are also a big draw.
Tell People About It
Of course, if you have a great home but no one knows about it, what good is it? Enter the property-management company. Look for a top-notch management company with a highly visible marketing plan. Do your research before you sign on with a management company. Look for one that offers homes similar to yours. If possible, ask other homeowners about their experiences with certain companies. Try renting with the company you're considering at least once, so that you can get a feel for the quality of service they offer from the perspective of a renter. Once you've chosen a company, listen to the advice they give you about setting the rental price.
If you're thinking of renting the home on your own or through an online rental company like Airbnb or HomeAway, make yourself aware of the amount of work it involves. Are you ready to deal with all the things the management company does — marketing, scheduling, deposits, service calls, renter questions and complaints, house and pool cleaning, among many, many other things?
Remember, it is up to you to tell your property management company about your home's amenities. If you add any amenities or upgrades to your home at any time, you must advertise them. Tell your property management company what you're offering so they can advertise for you on their website and in their rental brochure. Also, ask your property management company from time to time about upgrades that would help your house be more attractive to renters.
Step 2: Retaining Renters
Those in the know say that the name of the game in the rental business is repeat customers. If your house is attractive on paper only, a customer might rent your house once and look for another property the next time. But if your house is both easily marketable and exceedingly comfortable to stay in, renters will come back again and recommend your home to their friends. 
As one property manager said: "If a home is comfortable, well-equipped and obviously well taken care of by its owners, people will come back."
Putting some thoughtfulness, attention and, yes, money, into your rental home will bring the renters back.
Provide Special Touches
Remember that renters are staying in your home because they want a home-like atmosphere (albeit usually nicer and cleaner than their real homes). They like the special touches that the owners provide. Personal things like local artwork, a few tasteful and well-placed accent pieces and comment books are nice. But property managers warn that you should not be too attached to the belongings you place in your rental home — so no sentimental or valuable objects. Renters do not place the same value on things as owners do, and owners who expect renters to do so are often disappointed.
Guests appreciate any extra amenities and will remember them when deciding whether to rent the home again. Extras like a hammock or porch swing, a cooler for the beach, a handy supply of beach towels, luxury linens, a varied selection of books and games, lots of local information and guidebooks, current magazines and beach equipment go a long way with renters.
Make it Comfortable
They also appreciate comforts. Comfortable mattresses, pillows and furniture are some of the best ways to leave a lasting impression. Outdoor showers and well-placed foot washes, extra fans and blankets, plenty of clothing storage areas, hangers in the closets, and a nice selection of porch furniture are other amenities that will leave an impression in your renters' minds. If your home sleeps more than six, large capacity washers, dryers and dishwashers will be very much appreciated. The renter may not consciously notice all of these extra touches, but they will remember that your home was comfortable.
Stock Up
A comfortable home is also a well-stocked home. More than any other room, the kitchen should be well-equipped. If you want return renters, go above and beyond the basics. Flatware is basic. Good-quality, sharp kitchen knives and a varied selection of cooking utensils and gadgets are above and beyond. A blender is basic. A Keurig and a hand-mixer are above and beyond. A random selection of pots and pans is basic. A quality set of pots and pans, various casserole and baking dishes and several sizes of mixing bowls and measuring cups is above and beyond. You get the idea. Having the proper number of table settings for the number of people the house sleeps is not optional, and it's always a good idea to get extra settings of everything to account for your renters' guests or breakage or loss. Be sure to offer matching flatware, plates and glassware, a simple touch that makes renters feel special. Insulated beverage cups like Tervis tumblers are a huge plus.
Keep It Simple
The atmosphere of the home should be welcoming and friendly. Keep the decor simple, but let some of your personality shine through. Try to avoid lots of clutter. Renters want a space that feels open and relaxing, and of course it's easier to clean a home that is clutter-free.
Upgrade Every Year
Expect to spend money every year to keep your rental in top renting condition. Property managers and interior designers alike agree that owners need to constantly update their rental homes.
The interior of the home should feel like the owner takes an interest in it. Any broken, stained or unsightly items should be replaced immediately. Interior designers say that often you can start updating a home with the simple, inexpensive things: Add new bedspreads, shower curtains, throw rugs and throw pillows. Slipcover or reupholster some of the furniture. Put a fresh coat of paint on the walls, replace broken blinds, add updated lamps and accessories. Of course, there will always be times when you have to do major updates, such as replacing damaged furniture or worn carpet, replacing appliances or painting the exterior to make the home more inviting.
Sometimes, to attract and keep renters returning to your home, you may just have to spring for some major construction. Adding a pool will bring in extra money and more renters, so it is, in most cases, worth the cost of installation. Adding an extra master bedroom or closing in the garage to make a game room may increase your home's rentability as well.
Choose Renter-Friendly Furnishings
To reduce the wear and tear on your home, make sure your interior furnishings and decor are sturdy enough to hold up to renters. Check with local interior specialists; they know what works in rental homes. For instance, the upholstery you choose for your sofas must be fashionable but easy to clean and highly durable and resistant to sunscreen oils and salt. Carpets need to be tight-looped and flecked, not solid color pile. Appliances should be high quality but simple to use, without too many features. These are the types of invaluable tips local interior design and home-outfitting experts can offer.
Remember, in the end, your property management company is the expert on what attracts renters and what will keep them coming back to your property. It's their business to know!