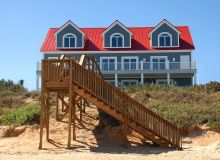 It's a common misconception that all a real estate broker does is set up signs in yards, list properties on the Multiple Listing Service (MLS), show a few houses here and there then sit back and rake in the big commissions. There's a lot more to selling houses and properties than most people realize — much more.
Real estate professionals work with clients in many ways beyond just the obvious showing of properties. From assisting people with investment strategies and offering relocation information to helping clients achieve personal goals and appeasing the fears of first-time home buyers, the real estate broker is the middleman, or middlewoman, of big life changes.
Just think of the broad range of subjects that real estate brokers must be knowledgeable about. Not only must they know a property inside and out, including its history and market value, but they must also have a great knowledge of the town, the county, the state and the geographical area where the property is located. They must know about all of the codes and covenants and laws — current or in the works — that might affect the property. They must know about septic and sewer systems, water hookups, home maintenance and repair, cost of services, where to find community information, school information and so much more.
Real estate brokers are required to be diligent researchers. They are constantly looking into building codes, rental histories, property histories, property liens, insurance laws and tax information.
"You have to be constantly learning and researching," said agent Darlene Styron-Doshier. "You can't lag behind or you'll get left behind."
In a vacation market such as the Outer Banks, where the majority of properties are second homes or rentals, real estate brokers are required to have more than just a general knowledge of rental programs and how they work. Buyers want to know about net and gross rental incomes and they want a solid idea of the investment return on a rental property.
Brokers also need to be able to inform clients about land values, flood zones, insurance requirements, erosion rates for waterfront property, how the purchase of a second home affects taxable income and the types of loans available. They need to be able to recommend the right type of lenders and tax accountants. Out-of-area buyers have many questions about local information, such as hurricanes and storms, cost of maintenance and recommended contractors as well.
"On the Outer Banks, most buyers or sellers are from out of town, and their broker is their only local contact," said broker Marlene Roberts Brantley. "Consequently, we have to work with them on everything from house inspections to selection of attorneys and lenders. We have to arrange with them to have inspections done, negotiate a repair agreement, get quotes and arrange for repairs, inspect the property along the way, line up elevation certificates and make sure it's all done in a timely fashion."
For relocators, agents must be able to provide community information about everything from schools and sex offenders in a neighborhood to churches and the name of a good dentist.
A seller's agent is instrumental in helping set the selling price.
"Pricing a home is not as easy is it may seem," said Gordon Jones, owner/broker of Coldwell Banker Seaside Realty. "You have to factor in location and the home's features and come up with a price that yields the largest amount for the seller but doesn't leave the house on the market too long. Agents are constantly studying the market and expanding their knowledge base of properties so they can set a reasonable selling price for properties."
Once the price is set, the agent must make sure that potential buyers know the house is for sale. Brokers must be expert marketers, and they are constantly thinking of ways to market the property, both out of and in the area. The agent orchestrates getting photographs, videos and, sometimes, drone footage of the property. They list the property and pay for advertising on social media and various other locations on the Internet and in print and through direct marketing. Appealing to the right buyers is an art mastered only by those in the know.
The broker must also make sure the house is in good condition for viewing. Therefore, a broker is often called upon to stage the home, and he or she must have some knowledge of interior decorating and curb appeal. The broker must have a good, objective eye, considerable tact and be able to recommend the least expensive changes that will have the biggest impact on buyers. He or she must be able to recommend contractors for yard work or repair work.
On the buyers' side, real estate brokers invest a lot of time catering to potential clients, whether it's via phone, email, social media or in person, even though many of those clients do not end up buying, especially in a vacation market. Most all real estate brokers say that the key is to treat each contact as if they were buying, because everyone is a potential customer.
For buyers who are thinking of renting their new home, buyer's agents need to be extremely knowledgeable about the vacation rental market. They also need to be able to educate the buyer on every aspect of Outer Banks home ownership, from taxes to insurance to maintenance and beyond.
Often vacationers are very serious about buying a property while they're here, but when they get back home and crunch numbers their interest wanes. Local real estate brokers have the added difficulty of trying to maintain interest with people who are so far away and can't come back to look at a property again and again.
First-time home buyers have special needs that require more of the agent's attention than normal.
"There's a lot of educating and hand-holding with a first-time home buyer," Brantley said. "To get a first-time home buyer from selection to closing is a demanding situation. Buying a home is one of the most important things people do, and we have to help them through it. It's important for a first-time home buyer to have proper representation during the process, and serving as buyer's agent to first-time home buyers is something we enjoy and take very seriously. It may be the most rewarding part of what we do as Realtors."
Some buyers and sellers think the job of a broker is so easy they can do it themselves, without an agent. This is possible for some people, but most experts recommend having the expertise of a broker to help you through the process. Not only can a trained real estate professional guide you smoothly through the art of making a deal, but he or she also wades through the incredible amounts of paperwork. The broker tracks down all the legal signatures and make sure the details are carried out with lenders, attorneys, inspectors and insurance agents.
In a small-town market like the Outer Banks, brokers often offer extras that clients wouldn't get in a bigger real estate market.
Hatteras Island Realtor Danny Couch gives all of his clients community information along with the historical and cultural information that gives them a good background of the area. He even gives all of his clients a local cookbook.
"Out-of-area people want to be made to feel local," Couch said. "They want to do more than own a house here. They want to be a part of the community. I try to help them with that, and they appreciate the little things."
Another misperception about real estate brokers is that they make too much money.
"The average real estate agent on the Outer Banks works anywhere from 30 to 50 hours per week and makes an average living for a profession that takes a lot of time and knowledge," Jones said. "When people go to an attorney or a financial advisor they don't flinch at the fees. But for some reason when they go to a real estate agent it's different. A real estate agent's fees are related to one of their most important assets — their primary or secondary home. People grow investments such as stock and bonds and they build wealth with real estate, and they need the right professionals helping and guiding them when they buy and sell."
Many people look at the commission fee and think that it will all go to one person. These people don't realize that most of the time the commission is split as many as four ways.
"Most properties are co-brokered between a buyer's agent and a seller's agent," said broker Louanne Woody. "Whatever fee is earned is split between the buying and selling companies, then typically each company pays the agent a portion of that that fee."
Then each broker has many expenses that offset their earnings — advertising expenses, webmasters, association dues, travel expenses, cell phone and internet service, to name a few.
"I spend a lot of money upfront when I market a property for a seller," Woody said. "I buy ads, set up websites and spend the time to do the legwork to properly market the property. I need to be available to answer property inquiries at all times. I don't get a cent until the property sells, and in many real estate markets that can be months down the road."
Real estate brokers are out there day in and day out, on evenings, weekends, beautiful summer days, even on epic surf days, always on call to suit the needs of clients and more than earning every cent they make. Call upon their expertise for your real estate needs.