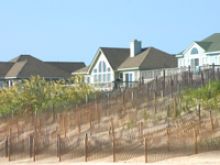 You're lounging in the hammock of your Outer Banks rental home, a light breeze tickling your sun-tanned skin, when you slip into a daydream about one day owning your own little place by the sea and relaxing like this more often.
You'll rent the house, it'll pay for itself, and you'll have your own Outer Banks getaway for vacations in the off-season. Is this a realistic vision or a far-fetched fantasy? Read on to find out.
Many people who rent here dream of owning something similar one day. With a little prudent planning, the dream of second home ownership is within reach for many people. But here's a piece of advice: Unless you have an unlimited budget, this is no time to be impulsive. One local realtor said that a second home is like marriage — it's a serious commitment that you don't want to enter into lightly.
More than half of the homes on the Outer Banks are owned by absentee owners, and that includes second homes for personal use, investment-only rental properties and rental properties that owners also enjoy. These owners know that Outer Banks property is a good investment. Prices are affordable relative to other resort areas, appreciation is steady, and there are many investment opportunities here.
Renting can make the cost of a second home more affordable. Renting your vacation home diminishes the costs of ownership and offers tax advantages in some cases. And if you want a second home that rents well, the Outer Banks is a good locale. The demand for short-term rentals is high, and the rental season is long, extending well into the fall and spring.
But while renting offers a way to afford that second home, real estate brokers and investment specialists say that is unrealistic to expect that rental income will cover all the expenses of owning the home.
"In general," says one local realtor, "you can expect the annual rental income on a stand-out property to be about 5 percent of the total cost of the home." That figure was a lot higher 10 years ago, but times have changed. Real estate prices have gone up, and rental rates have not increased at the same pace, mainly due to the number of rentals available on the Outer Banks. A good, solid property will rent most if not all weeks of the peak season, and the payoff varies according to the ratio of the cost of the house to the price of the rental and the number of weeks it rents.
Tips on Outer Banks Real Estate Buying
If you're considering buying a rental property on the Outer Banks, here are a few tips and things to consider, courtesy of various realtors and investment professionals.
1.     Approach the planning and decision-making without emotion; try to remain objective. Learn all that you can about the rental process and the implications of owning a rental home. Renting houses is big business on the Outer Banks. This is a business investment, so treat it that way.
2.     Hire one local agent to help you in your search. Instead of calling the agent who lists each property you're interested in, which means you'll deal with numerous real estate agents during your search, get your own Realtor, a buyer's agent, who will help educate you and serve your best interests.
3.     Get pre-approved for a mortgage. Many real estate agents will tell you to do this even before you start looking at properties. This lets you know exactly how much you can afford, so you don't waste any time looking at properties that are out of your league. It also tells the Realtor and sellers that you're a serious player.
4.     Start out as a renter. Rent various houses in various areas of the Outer Banks and find the type of house and location that best suits you. What type of amenities did you enjoy as a renter? One local property management company said that every homeowner they represented had rented with them before they bought.
5.     Be wary of unrealistic rental income projections. Some sellers might pump up a property to look like a cash cow or "easy money." Your buyer's agent can help you determine accurate rental projections and make suggestions about properties that would generate reasonable income.
6.     Know the costs. Besides the down payment and mortgage payment, you'll need to pay for things like annual maintenance, furnishings, updating and repairs. (Renters can be very hard on a house!) You'll also have to consider insurance, which may be more expensive than your primary home insurance because on the Outer Banks you also need wind insurance and probably flood insurance. Also, the second home will have an impact on your taxes, depending on how often it's rented. Second homes and rental homes are subject to many different deduction standards, so consult with an accountant.
7.     Be realistic about the amount of work it is. You can't rest on your laurels when you have a house in a rental program. "It's a competitive business right now, and if owners are not keeping houses up, the rents go down," said the manager of one rental agency. "You have to keep raising the bar. You have to constantly keep up with it."
If you've thoughtfully considered all these points and want to buy and rent a vacation home, how do you work out a vacation rental, logistically?
Outer Banks Property Management
This is where property management companies come in. Most owners of rental properties live outside of the area and hire a company to handle renting and maintenance. About 50 Outer Banks companies manage properties for off-site owners. Some are a division of a real estate firm; others deal exclusively with vacation rentals. Most property management companies charge the homeowner a percentage of the gross rent, and homeowners are paid monthly.
Property management companies do many things for the homeowners they represent. Number one, they market your home to potential renters via advertisements, catalogs and the Internet. They handle the bookings. They draw up leases, mail them out to customers and collect their rents, deposits and taxes. They keep up with the laws in the Vacation Rental Act and offer Trip Insurance to renters. They field complaints and criticisms about your property. They handle the cleaning, inspections and light maintenance after each renter vacates the property. They do the necessary maintenance to keep your home functioning properly, including regular pool and spa maintenance. They can offer tips and suggestions on setting rates and how to get your house to rent more often. Each company's services vary, and each company has a niche that they fill in the rental market.
Unless you are willing to handle all these things yourself, it is not recommended that you try to rent or maintain the property on your own. For most people it's easiest to do a little work to find a company they like and then pay whatever it takes to turn the work over to them.
All agents we spoke to for this article agreed: Owning a rental home on the Outer Banks is a good investment and a good way to afford a vacation home as long as you approach the process as a business venture instead of a way to make easy money.