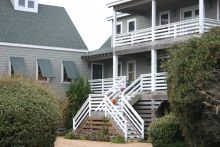 By F. Jeffrey Scott
Bank-owned properties have traditionally been known as great opportunities for buyers to purchase a property at significantly less than current market value. It is possible to purchase a great valued foreclosure property on the Outer Banks, but buyers must be very careful because there are many pitfalls involved with these purchases. This article is a primer for people considering Outer Banks bank-owned properties, including the risks of purchasing this type of property and a general road map to a successful bank-owned purchase.
When most people think of buying foreclosure properties, they see the process as reading about the foreclosure sale in the newspaper and then outbidding everyone at the court house auction. This is usually not the best way to get a great valued property for a number of reasons:  
1.) Many of the owners had mortgages that were higher than market value, thus the bank will usually outbid all other bidders.
2.) It is not easy to view the interior of the home prior to the auction. This makes it hard to determine what you might be purchasing. Often these properties are in less than satisfactory condition, and some have been abused.
3.) Waiting to purchase until a property is listed allows the lender to get the property in a somewhat marketable condition and write off some of the bad debt. Banks frequently write off bad debt on their foreclosures, and it's a key factor in obtaining a good-valued foreclosure property.
Almost all local foreclosure properties end up being listed by a local Realtor and are placed in the Outer Banks Association of Realtors' Multiple Listing Service. Most local realty companies' websites have capabilities to search for bank-owned properties. It is just another category that an agent has to check when inputting the listing data, and most search engines have been modified to search for this category.
While there is a method to search for bank-owned properties in the MLS system, some bank-owned properties are not listed as such. But a local Realtor will have other methods to find them. Realtors' websites are a good place to start, but your Realtor can help you obtain a complete list.
Most foreclosure properties today are priced at or close to current market prices. Banks generally want to obtain as much as possible for each property while pricing them to get buyers to view them. Occasionally a bank will price their property very aggressively just to get rid of it. These instances are fairly rare, and buyers will find themselves in a multiple offer situation.
When looking at specific foreclosure properties, it is possible for your agent to pull up the listing history for the property. There you can see when it was first listed and see if any price reductions have been made. The lender is less likely to negotiate on those properties that were just listed or recently had a dramatic price reduction.
Another consideration to make when deciding on an offering price is the condition of the property. Banks almost always sell their property in as-is condition. If it is discovered after you have a contract that the heat pump needs replacing, then usually you can void the contract or purchase it with the broken heat pump. Buyers of bank-owned properties should expect to have to do some work to get the property in good condition. Oftentimes these homes require much more work because the former owners did not take care of the property long before they stopped making mortgage payments.
Lenders have their own unique addenda that they want a buyer to sign along with the contract. Most of these addenda are usually just disclosure forms, but they can also state that the buyer will pay the land transfer taxes. Sometimes these forms are not available up front, and the buyer must review and sign these forms after a price has been agreed upon. Buyers and their agents should closely examine these additional forms to make sure no terms of the agreement have been changed.
Buyers should also expect the property to be transferred by a special warranty deed instead of a general warranty deed. This is because the bank may not know of defects in the title existing prior to the bank owning the property. This makes title insurance even more important to purchase when buying a foreclosure property. If a title problem arises after closing, then the title insurance will take care of it.
There can be great rewards for a buyer looking to purchase a bank-owned property on the Outer Banks. A local Realtor can help you avoid the common pitfalls found with these purchases as well as save you time in the process.