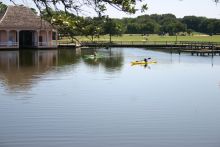 Ok, you've fallen in love with the Outer Banks. If this is your year to purchase a property here, what's the next step?
In many locations seller's agents have listed an acceptable sales price for their property, so you know the maximum you will have to pay for specific properties. Unfortunately, there is no easy place to find out what other buyers have been willing to pay for similar properties. Even if you could find some recent similar sales, you might not know all the features, the property's condition when it sold and how long it took to sell.
Purchasing a property is an educational process. Besides not overpaying, there are many potential pitfalls for buyers if they don't take the time to learn about this resort real estate market. Since you can't learn it all yourself, it's in your best interest to hire a Realtor. It is the Realtor's job to help buyers and sellers save time and money in their real estate transaction.
Buyer's agents are scanning the market for good values on a daily basis so you don't have to. Once the agent knows what you are looking for, he or she can set up the local MLS system to email you and/or them whenever a property is listed that meets your specific criteria. This allows you to be the first to know about all new listings that meet your needs. Properties that are priced right sell quickly. For example, a local Realtor in Corolla recently convinced a seller to drop their price to market value. Within two weeks that property was sold. Without an agent looking out for you, that great-valued property might get sold before you know about it.
When you hire an agent, that person's job is to make sure you know as much as possible about the property and area you are considering so you can make wise purchasing decisions. Just a few of the things agents are familiar with that a buyer should know before purchasing are the flood zone information, the erosion rates, the chances of rental income, development regulations, beach access, community covenants and restrictions and other town ordinances. All these things are important. For example, if a buyer loves to walk her dog on the beach, she will not want to be in the town where dogs are not allowed on the beach.
Buyer's agents can save their clients time. Oftentimes a buyer has a list of must haves in a beach property. Their agent can preview potential properties as they come on the market to see if they have these essential elements. For example, a good ocean view is important to many buyers. Even with all the information on the Internet, it is difficult to tell how good the ocean view is without going to the property. Realtors frequently will preview houses for buyers to see what kind of view the house has.
A key task of a buyer's agent is helping the buyer determine fair market value. The Realtor will look at recent sales to determine what other buyers would have been willing to pay for the property you like best if it had been on the market when they purchased. Oftentimes a Realtor may have seen a similar prior sale and can easily compare apples to apples. 
When it comes time to sell your property, listing it with a Realtor also is a good idea. Properties listed with a local Realtor are placed in the local Multiple Listing Service (MLS). Buyers today are searching for well-priced properties on local Realtors' websites and on other sites that hold the MLS data. If a property is not listed here it is likely potential buyers will not know about it.
Furthermore, without this exposure you never know if there might be someone out there who would be willing to pay more. Each local Realtor has a list of potential buyers who may have interest in your property. When a property is listed in the Multiple Listing Service, hundreds of Realtors each with hundreds of possible buyers will know about your property in just a matter of hours. By listing your property with a Realtor, it is quickly exposed to the highest number of potential buyers.
Listing your property with a Realtor also saves you time. It would be nice if the first inquiry purchased the property, but in many cases it takes 10 to 20 inquiries to have one showing. Once the potential buyer decides to look at the property, someone must be there while the buyer is looking. This process can take up to two hours while the buyer views the property. Properties today often receive 15 to 20 showings or more before a buyer makes an offer. Handling advertising calls, scheduling showing appointments and promoting the property takes a considerable amount of time.
Realtors can also provide sellers with the information necessary to make good selling decisions. One broker tells of a client who decided to save the commission and sell his soundfront property without using an agent's services. Because the seller was not armed with the latest market information, he ended up selling it for $200,000 less than market value. If he had just allowed the Realtor to help him, he could have enjoyed thousands more in net proceeds.
Allowing a Realtor to represent you in your transaction should not only save you a tremendous amount of time, but it also should give you confidence knowing you have the best information available to make a important buying and/or selling decisions. When ready to choose a Realtor, take the time to learn about their additional services and then watch them work.