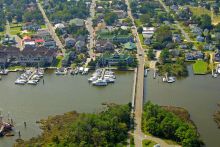 It's a fact that some buyers have chosen to live or invest on the Outer Banks based on little more than a view. But the decision to buy property on the Outer Banks should be made with more information on the lay of the land. Within the broad reach of our 100-plus miles of coastline, there are many villages and towns. Which Outer Banks community is right for you? How do you get your bearings when there are features that you can't see, such as local attitudes on growth and the environment? These attitudes will ultimately shape the future look of the Outer Banks. Here, then, in addition to some physical features of note, is a view of another sort, from north to south — a snapshot of each community from Carova to Ocracoke.
Living on the Currituck Beaches
We begin at the northernmost village, beyond the paved roads and above the wildlife sanctuary, in the four-wheel-drive areas of Swan Beach and Carova. Accessible by way of the beach only, this area was subdivided and canals were dug in anticipation of an access roadway from Virginia planned many years ago. But when the Back Bay Wildlife Refuge came into being, those plans were dashed and the subdivisions remained isolated, albeit affordable. Lot sales were a bargain and included owner financing, but building a home that far out of the way back then was a bit of a financing challenge. As a result, the homes there are a hodgepodge of old and new, ramshackle and opulent. Some of the new homes are the biggest and most well-appointed on the Outer Banks —with no paved access!
Residents no longer push for better access. The residents are friendly, but they want to enjoy their privacy. They shy away from development, even the mere grading of their main route, Sandfiddler Road. An effort to do so was dropped due to a petition signed by more than 150 residents who feared that road improvement would spark more development.
Although Carova is geographically just a few miles north of the village of Corolla, it is a world away in appearance and economic development. Corolla is manicured, tourism driven and on a fast track toward self-governance. Corolla is made up of homes in developments with extensive recreational facilities that attract a steady stream of vacationing families who arrive weekly in Mercedes and Volvos. The year-round population is only around 500, but visitors carry big pocket books, and the resulting revenue stream is significant, benefiting the larger agrarian mainland of Currituck County. The difference between Corolla in summer and Corolla in winter is stark. Corolla all but shuts down in the winter, but a few restaurants and shops now stay open year round.
Most nonresident homeowners take advantage of premium weekly rental income to offset the cost of ownership. For the Currituck beach communities, access to schools is a challenge; the closest option is a charter school in Corolla, otherwise students go to school in Virginia (if they have a pass to drive on the beach into Virginia) or more than an hour's drive away on mainland Currituck County. Certainly, if the long anticipated mid-county bridge, connecting the Currituck beach to its mainland, is finally built, this area will inevitably attract far more year-round families with children.
In addition to shortening drive time for southbound vacationers to the northern beaches, the proposed mid-county bridge will help ease the travel volume on N.C. Highway 12 through the towns of Duck and Southern Shores.
Living in Duck
Like Corolla, the Town of Duck is a vacation destination with upscale vacation rental homes in attractive developments, but the year-round population — 384 — is tight due in part to its better proximity to the conveniences of major medical facilities, schools, shops and restaurants. Duck is the northernmost community in Dare County and has made great strides since its incorporation with its own police department and other services. It has built a lovely town park with a soundside boardwalk and an amphitheater where locals and visitors enjoy concerts and other entertainment summer and fall. By and large the people of Duck are actively involved in their town and eager to enhance its beautification.
It's hard to find a place near the water with this kind of natural environment and small-town feel. Some people from the north who have retired to Florida have chosen to move halfway back home. Why? Perhaps it's because they miss the changing seasons not present in Florida. They miss that rhythm and find the moderate seasonal changes here quite comfortable. Accessibility to friends and family is also a factor; a day's drive to the Outer Banks is much easier on their children and grandchildren from Ohio than a two-day trip or the cost of airfare.
Living in Southern Shores
Farther south, the Town of Southern Shores is a magnet for the mature buyer. It is a full-fledged year-round residential community, population 2,890, that enjoys the shelter of extensive maritime forest, profuse with wild flowering dogwood each spring. The attentive community benefits by a large retirement population who volunteer for many services to such a degree that they also enjoy the lowest tax rate in the county.
Unlike its neighbors to the north with a wide variety of subdivisions, Southern Shores was carefully planned from the start. There are no recreational facilities that rely on hefty homeowner's association dues. Instead, nominal dues paid to the civic association support community spaces that provide access to ocean and sound with parking and a few playgrounds. The country club, Duck Woods, offers membership for those wishing to play golf and tennis. Like Duck, the residents of Southern Shores don't want a four-lane traffic corridor through their town and support plans for the mid-county bridge.
Living in Kitty Hawk
Kitty Hawk was never planned, it was settled. It has one of the greater concentrations of old families on the Outer Banks who live primarily on the rolling, wooded ridges that rise above intermittent marsh. Names like Perry, Twiford, Tillett and Baum that appear on many street signs give tribute to these true locals. They avoided government for as long as they could, preferring a live-and-let-live lifestyle, but by 1981 development had intensified to the degree that Kitty Hawk chose incorporation to gain control of its future appearance; its first order of business, a zoning ordinance. The town has garnered kudos for its efforts to preserve more than 1,800 acres of its woods with the support of the Carolina Estuarine Reserve Foundation. Kitty Hawk has a year-round population of almost 3,500 and includes Kitty Hawk Elementary School. After elementary school, Kitty Hawk students attend school in Kill Devil Hills.
Living in Kill Devil Hills
The largest of the Outer Banks towns with a population of around 7,000, Kill Devil Hills is considered "Beach Central." It has numerous county facilities including the First Flight Schools complex, the Baum Senior Center, a library, a recreation facility and satellite county offices. It's the site of Wright Brothers National Memorial and numerous public beach accesses. With a progressive attitude on growth and redevelopment, it was the first beach community to install streetlights along U.S. Highway 158 and to require all new commercial developers to install sidewalks along that corridor. In 2004 the town created the Historic Landmark Commission to identify homes and other structures of historic significance, and town officials have been forward thinking in their approach to an affordable housing effort in an attempt to help people with more moderate incomes make their homes here.
Colington Island is just west of Kill Devil Hills, and it's a huge population center of locals. Several residential communities are found along Colington Road, and Colington Harbour is one of the most densely populated planned communities on the Outer Banks.
Living in Nags Head
Like Kitty Hawk and Kill Devil Hills, the Town of Nags Head, population 2,900, has a healthy mix of year-round residents and vacation homeowners. The town attracts a high number of anglers due to its proximity to Pirate's Cove Marina and Oregon Inlet Fishing Center. The Outer Banks Hospital is both in Nags Head, as is the Outer Banks Family YMCA and Nags Head Elementary School, which bring a more family-centered focus to the town. Nags Head students attend school in Manteo after elementary school.
Two public areas, Soundside Event Site and Dowdy Park, along with numerous public beach accesses, make Nags Head one of the most popular towns for outdoor recreation.
Several of Nags Head's west-side communities attract a mix of permanent residents, including families and retirees.
Living on Roanoke Island
The historic Town of Manteo on Roanoke Island, just west by bridge from Nags Head, is the cultural arts center of the Outer Banks. With several blocks of galleries, restaurants and shops, it is the most walkable and charming of the towns, and it has very effectively shaped its growth with history-friendly developments that complement the surrounding neighborhoods that have been tended with care by some of the county's oldest families. This careful redevelopment is the result of a 20-year plan that was developed by the Town and N.C. State University that literally sent students door to door to survey the visions of its citizenry.
The county seat is in Manteo, and it's where the justice center and county offices are located. The town also includes a library; elementary, middle and high schools; the Dare County Campus of the College of the Albemarle; The Dare County Regional Airport; and many of the Outer Banks most popular attractions — Roanoke Island Festival Park, The Lost Colony, Fort Raleigh National Historic Site, The Elizabethan Gardens
Roanoke Island is also home to the unincorporated village of Wanchese, population 1,642. The village includes a large commercial seafood and industrial park as well as numerous boat-building businesses. There are no established neighborhood communities, and residents tend to a live-and-let-live attitude about development.
Living on Hatteras Island
South of Nags Head, over the Herbert C. Bonner Bridge at Oregon Inlet, the 60-mile-long island of Hatteras elbows some 23 miles out to sea. Cape Hatteras National Seashore, Pea Island Wildlife Refuge and Buxton Woods Preserve encompass much of the island, crowned by the granddaddy of all U.S. lighthouses, the Cape Hatteras Lighthouse. The seven villages on the island attract sportsmen from around the globe and as a result bolster the economy during the shoulder seasons. This sport-specific visitation accounts for some of the highest numbers of weeks rented for homeowners engaged in the vacation rental home market. Although many beautiful resort homes have been built in recent years, the island is still an affordable mainstay for anglers, surfers, windsurfers and kiteboarders.
The year-round population of Hatteras Island is around 4,000. The northernmost three villages of Rodanthe, Waves and Salvo are contiguous with a small year-round population and large vacation rental sector. Avon, Buxton, Frisco and Hatteras villages to the south have more permanent residents, and many of the locals can trace their roots back hundreds of years. Hatteras Island is home to two Dare County Schools for all ages and several local attractions; the schools are centrally located in Buxton, which can be about close to an hour's drive from Rodanthe. The Gulf Stream-bound charter fishing boats operating out of Hatteras enjoy a robust existence because they can reach the blue water in less time than marinas to the north.
When asked what locals think Hatteras Island will look like in 20 years, many say that they really don't think it will change that much because the villages are all bordered by National Park Service lands, which will limit build-out. With no land opened up for new development, it's more logical that redevelopment of older neighborhoods will likely occur. 
Living on Ocracoke Island
At the south end of Hatteras there is a free ferry service to Ocracoke Island. About 950 residents live on Ocracoke year round. Like Hatteras, a large portion of the island is part of the National Park Service. The village has a waterfront setting as it wraps around a harbor called Silver Lake. It is a charming village with quaint shops, restaurants and enchanting small cottages. This island also attracts visitors in great numbers, including a significant number of northern Outer Bankers who find Ocracoke to be a perfect weekend getaway. Ocracoke has a small school that educates all grades in one building.
No matter where you choose to live or vacation on the Outer Banks, the views and the laid-back lifestyle and the opportunities for outdoor recreation are amazing. Before you buy, be sure to visit all of the areas to find the one that is perfect for you.