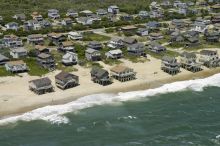 The idea of having a home at the beach and going through the process of planning, designing and constructing that dream can be a fulfilling and enjoyable experience.
But the real enjoyment starts when the project is finished. Picture yourself during that first weekend living in your new home. You positioned the house just right so you can see the sunrise over the ocean. The decks are big enough so the family can have dinner outside while watching the sunset, and you were able to save the 100-year-old live oak on the back of the property.
For many, having a new home on the Outer Banks is the end of years of planning and the beginning of a new way of life. Current market conditions and building code changes make this a great time to build here. This article will help you understand a little more about the Outer Banks building industry and should help save you time when planning a construction project.
Wind and Water
Each area of the country faces its own set of building challenges. Out West builders must be concerned with earthquakes and fires. In New England builders have to account for the additional weight of snow and freezing pipes. Here on the Outer Banks, builders are most concerned about wind and water.
The beach receives 40+ mile per hour winds and driving rain from time to time. Local building codes and the practices of local builders are geared toward weatherproofing the house against these elements.
The Outer Banks has different building codes designed specifically for high-wind areas. These are twofold. One is securing the house and roof to the foundation, and the other is to limit the damage to the structure from wind-borne debris.
Chances are that sometime in its lifespan an Outer Banks house will bear the brunt of a hurricane or two. Those considering building here should feel confident that both the government and local builders insist on many building standards that significantly reduce the chances of damage to their property by wind or water.
North Carolina's current building codes require things like steel rods running from the roof to the foundation so the roof will not blow off in a hurricane.
Studies have shown that one of the major causes of a house to fail in a hurricane is a window being broken by flying debris, causing the walls to be pushed out by the force of the wind. In many beach locations, the new building codes require window glass that can withstand being struck by debris without shattering, similar to the windshield of a car. Over the last 10 years, major changes to the North Carolina building code have dramatically improved a home's chance of surviving a storm without damage.
What attracts most people to this area is the water. Most days our ocean and sounds provide us with beautiful scenery and great places to recreate. These same bodies of water can be a hazard to properties, particularly during hurricane season.
The Federal Government has put in place the National Flood Insurance Program, which makes flood insurance affordable for anyone who owns property in almost all sections of the beach. In return for lower rates, municipalities must enforce federally mandated guidelines created to reduce the risk of damage due to flooding. The most noticeable guideline is elevating living space above the 100-year flood plain. This is the height to which they believe flood waters will reach once every 100 years. Knowing that your home is being built above that area that may flood once a century should give an owner some peace of mind even when the worst of storms is heading toward the Outer Banks.
Besides these governmental bodies eliminating many common weather concerns, local builders continue to improve their building practices to weatherproof Outer Banks homes. Just two examples of building practices used in this area are in shingle installation and siding installation.
For example, six nails in each shingle instead of just four used in many other areas helps shingles stay in place much better during periods of high winds.
Siding is also an area that requires more attention due to common wind-driven rains. It is extremely important that Outer Banks siding contractors properly install the vapor barrier. One mistake on lapping or taping could result in many problems down the road with water intrusion.
For these reasons, using a local builder familiar with today's weatherproofing practices can make a big difference in the maintenance and life of your home.
Lot Coverage and Septic Systems
What can or cannot be built on an Outer Banks property is closely regulated by the local municipalities and sometimes a homeowners association. The regulations that most commonly limit what can be built on a lot are lot coverage and septic issues.
Lot coverage regulations are different in each municipality, so hiring a local builder who knows the local regulations saves an owner time and aggravation. Most towns limit the amount of the lot that can be covered in residential areas to somewhere around 30 percent. Municipalities want to make sure that the rain does not run off one lot onto other people's properties. The area of the lot covered with concrete driveways or roofs counts toward lot coverage because rain water cannot soak into the soil through these surfaces. Each town has its own specific regulations relating to lot coverage. Some do not count swimming pools towards lot coverage because they retain rain water; others count sundecks even though rain can still enter the ground underneath these decks.
The size of a septic system also limits what you can build on a property. Most Outer Banks subdivisions do not have a central septic system, so Outer Banks owners are lucky that our soil perks well.
Septic systems consist of a septic tank and drain lines that allow the treated effluent to harmlessly enter into the water table. These state-regulated systems take up space on the lot and are separated from other improvements. Their size is a function of the number of occupants the residence is designed to house. This makes larger lots more valuable because they can accommodate homes with more occupants. Talking with a builder who is familiar with state and local regulations can save you time in choosing a plan, whether you are building or adding on to an existing structure.
Additions and Remodeling
A large part of the Outer Banks construction business is focused on additions and remodeling. As an owner's family changes, the housing needs change as well. Perhaps an elderly family member will be moving in shortly or more room is needed for kids or grandchildren. This is the time when additions and remodeling the home need to be considered.
Owners should be thinking of resale value while making a decision on the addition. Owners should compare their home to others in the area. When a home is by far the largest in the neighborhood it is difficult for a seller to recoup the cost of the addition. However, if an owner plans on staying in that home for the long term, then recouping these addition dollars is much more likely.
Keep in mind that changing existing space adds less value than adding additional square footage. Therefore, to get the largest bang for your buck try to add living area instead of just improving what is already there. It is a good idea to meet with a Realtor once you have an idea about what you want to do. This skilled professional can help you determine what the value of the home will be with the completed addition.
In addition to the builder and the Realtor, another professional that an owner should consider meeting with is an architect. Their expertise can help a great deal in utilizing space, allowing in light and providing a comfortable and functional floor plan. They are also experts in making an addition look like part of the original house.