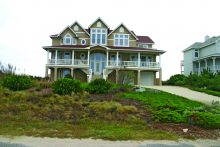 I recently was in the market to purchase a bicycle. For me this purchase seemed like a no-brainer. On my way over to one of the national chain stores that carries everything from baby food to big-screen TVs, I stopped by a local bike shop. While there the sales person took some measurements and asked me a few questions about what type of bike riding I had in mind. He then made some recommendations and adjusted a couple of models to my size for me so I could take a spin around the block. Thanks to this sales person I never made it to the national chain and made an excellent purchase.
Buying the right bike is much more complicated than it first appears. I did not expect the sales person to teach me about bikes or take the time to make sure I was getting the best bike possible for my budget and needs, but he did.
So what does all this have to do with real estate? To me it raises the question: If purchasing the right bike requires a specialist, how much expertise does purchasing a home require?
Knowing what to expect from your local Realtor will help you in the buying process.
What Your Realtor Should Do
1. Explain Agency Relationships
Agents are required to provide you with a brochure that outlines the different agency relationships available. You can expect most agents to ask you if they can represent you. Having an agent look out for your interests should not cost you any additional money. Most agents require just a verbal commitment before they begin to work for your interests. In North Carolina, by law agents represent the seller until the buyer agrees to allow the agent to represent him. Once both agree, the Realtor can help the you obtain a property for the best price and terms possible as well as look out for the your specific interests.
2. Help Narrow the Choices
A good sales person wants to make sure the buyer is happy with his or her purchase. Similar to purchasing a bike, a real estate agent cannot help you find the right property until she knows something about your wants and needs.
Expect a Realtor to ask you questions to narrow down your interests. This process may involve looking at a house or two before the Realtor can get a good feel for your interests. At a minimum, the agent will want to spend an hour or so talking with you about what you would like in a property and what you absolutely don't want.
3. Provide All the Facts and Figures
A buyer should expect his agent to provide him with all the facts, figures and information necessary to make an informed buying decision. What does this entail? For starters it involves getting as much information about a property as possible. From expenses and income to the number of occupants the septic system accommodates, there is a ton of information available on each property if you know where to get it. Realtors are experts at getting this information and will save you a tremendous amount of time collecting this data. Buyers should also expect their agent to help them interpret this information, for example, how a specific property compares to other available and recently sold homes. Most Realtors will complete a market analysis of the prospective property prior to writing an offer so you have a target price in mind.
4. Share Local Expertise
Your Realtor should have a general working knowledge about insurance costs, erosion, financing, zoning ordinances, the tax implications of owning a home, vacation rental regulations, construction and contracts, just to name a few. You should expect the agent to use her expertise in these areas to save you time and money.
5. Keep Things on Track
A buyer should expect an agent to follow through with the tasks necessary to close the transaction. This starts prior to making an offer on a property. After it is clear about what features a you are looking for, the agent will be contacting you with new listings that meet the criteria. "Once a property is listed that meets clients' needs, we contact them immediately so they won't miss out on an opportunity," says local Realtor Michael Davenport. "We also let them know when similar properties sell to keep them informed of market values." The agent can also be expected to coordinate each activity after you have a contract so the closing occurs on time.
What You Need to Do
In return for their efforts, Realtors expect a few things from buyers.
1. Be Straightforward
Agents expect prospective buyers to be straightforward with them. If you call on a property when you already have a relationship with another Realtor, tell the agent on the phone you are already working with a Realtor. The agent on the phone will then give you the needed information but not try to sell you on his or her services. This will save time for both parties.
2. Be Clear About What You Want
Sharing your wants and needs with the buyer's agent allows him to quickly pinpoint those properties that would work best for you. Agents do not want to bother clients with properties that do not meet their needs. Being specific about the type of property wanted allows the agent to focus the search on those properties that might work.
3. Work with One Agent
Agents also expect you to work exclusively with them. The real estate sales industry is set up so that only one person can be compensated for working with the buyer. If more than one agent is actively looking for properties for an individual, then all but one will be working with no chance of compensation.
Having realistic expectations is the first step toward a successful and happy transaction. Take the time to talk with your Realtor about expectations and enjoy a mutually beneficial relationship that should last long past the closing day.